What Books Should I Read in 2011?
One of my goals in 2011 was to read less, but somehow I am reading more! January hasn't yet finished, but I've already read almost 10 books (I did take an unexpected trip so I read some on travel time). After not really loving what I read, I am in a book rut. While I have a list of 70+ books on my nook eBook wish list, none are jumping out at me as the "Next Read."
I am taking a tip from my Twitter and Brazen Careerist colleague Jessica Malnik who listed 26 books she wants to read in 2011 (she has a great blog so you check out her other content, too). I am not that organized to think that far ahead, but here are 15 I've picked out as considerations. Any recommendations on what I should pick next? What I should add or subtract?
(Reminder: I am a Barnes and Noble Affiliate and if you buy a book by clicking to it from my website, I get a small commission. I also have a list of books I've already read and highly recommend that you can view).
Non-Fiction List:
1. They Don't Teach Corporate in College: A Twenty-Something's Guide to the Business World by Alexandra Levit. I've had this book on the shelf for a while (it's not available as an eBook) and would like to finally read it and decide whether I should  recommend it to clients.
2. The Dip: A Little Book That Teaches You When to Quit (and When to Stick) by Seth Godin. I'm a huge fan of Linchpin. I read half of The Dip for free at Barnes and Noble in their cafe and loved it. I haven't bought it because the eBook is more expensive than the hardcover and more expensive than most eBooks I'd buy. I am not sure how that pricing happens?  As someone who does much of her reading on the subway and is anti-clutter, I don't want to read hard covers for any reason so I placed this on hold. Since I've felt like I'm in The Dip more frequently, I should probably just purchase and finish for insight.
3. Mindset: The New Psychology of Success by Carol Dweck. Recommended by lots of people and loved the free preview. Seems similar to a lot of other books I've read so have put off committing to reading it, but maybe it's time?
4. How to Be a Grown Up: The Ten Secret Skills Everyone Needs to Know by Stacy Kaiser. I want to read this book for client research and for my own benefit.  It may not be reassuring to some that a coach wants to read a book about how to be a grown-up. I like how Kaiser talks about choice as freedom. It's a concept that I think we all needed to be taught or reminded, no matter what our age or profession is.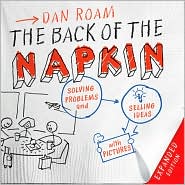 5. The Back of the Napkin: Solving Problems and Selling Ideas with Pictures by Dan Roa. I'm intrigued by this book. I am naturally inclined to draw messy pictures when I am talking about things and am wondering if this book will help me to do this more efficiently and effectively.
6. Blue Ocean Strategy: How to Create Uncontested Market Space and Make Competition Irrelevant by W. Chan Kim. I have conversations with my fellow coaches about competition quite often. Most of us don't feel like we are competing with each other as much as we're competing with our potential client's desire to spend money on material goods. I still think this book could help me rethink my marketing strategies.
7. Free Agent Nation: the Future of Working for Yourself by Daniel Pink. I love myself some Daniel Pink. Drive rocked.
8. A great book on education. No ideas here, people. Any recommendations?
9. Flow: The Psychology of Optimal Experience by Mihaly Csikszentmihaly.  Every productivity or career development book I read mentions this book. It's probably time to visit the source. Another book where the eBook is priced higher than the hard copy. AGH.
Fiction List:
I try to read a fun fiction book for every two learning or non-fiction books.
10. Chelsea Chelsea Bang Bang by Chelsea Handler. Not only do I love Chelsea Handler, someone gave it to me as a gift and it's been sitting on my book shelf for six months. The only thing that has stopped me from reading it is that I'd have to carry it around.
11-13. The Millenium Trilogy. I am probably the last person on the planet that hasn't read these books. I've been terrified that once I start, I won't be able to put them down and I'll lose a week of my life. (BTW- gave these as a Christmas gift to my mom. Is it bad form to ask to borrow them when she's done?)
14. Netherland by Joseph O'Neill. This book was passed around the Fire Island house during the summer of 2009. Maybe it's time I dig in.
15. Room by Emma Donoghue. Great reviews and seems like a great book.
Feedback highly welcome!